Author: Nosa Lee
Original Address: https://www.seeksunslowly.com/8-reasons-to-use-windows-live-writer
To reprint this article, please indicate the source, thank you.
_____________________________________
Important Note: This is not an advertorial, there is not any relationship between Microsoft and me, moreover, Microsoft does not need a Chinese amateur writer.
Since you have started to read this article, the superfluous words will be omitted, such as what is Windows Live Writer (referred as WLW as below), what can WLW do, how to use WLW, etc. You only need to know it is a free software that produced by Microsoft and is included in Windows Live software package.
I only say the cores: Why use WLW? – based on my experience – a 15 years veteran IT professional.
I use WordPress as CMS, and write articles in WordPress control panel for a long time, in fact, WP control panel is very good and humanized, close to perfect.
A few days ago, a friend recommended WLW to me, in the general sense, I know the benefits of a PC software/client, but I still do not want to change to WLW, and do not want to learn the new software that is not essential because WordPress control panel is so great.
Until a few days ago, the network is so slow, I thought using WP control panel is wasting time excessively, so I began to use Windows Live Writer.
In fact, it is very good, no learning cost, easy to use.
The following are Windows Live Writer advantages contrasted with WordPress control panel  that summarized by me, I believe that you will use WLW once if you really understand them.
Works fine even the network speed is slow: write in local PC, and submit one time once finished writing, do not need to wait the loading time of WordPress control panel and each elements of an article (such as permanent link, tags, categories, switching between HTML and WYSIWYG editors).
Writing articles like using Word, very comfortable to use the shortcut keys, such as <Ctrl+A> (Select All), <Ctrl+B> (bold text or cancel bold), <Ctrl+I> (italic text or cancel italic), you should understand.
Lets you focusing on article writing, and never be distracting for various interface elements (I will show my working interface as below).
The writing interface is nicer than WordPress WYSIWYG editor, and very comfortable to use it due to WLW WYSIWYG editor can include the color scheme of your WordPress theme.
prevents generating the automatic draft records (wp_posts table, post_status = 'auto-draft') during writing, editing and publishing. It is very good – saves your host space and reduces some management cost. Besides, draft be saved in local disk, no host space cost and does not generate the manual draft records (wp_posts table, post_status = 'draft').
Easy to drag-and-drop and insert resources due to like writing in Word (almost usage is drag the pictures from Windows Explorer and drop in your article), and WLW will process them automatically when publish article (include update the picture resources).
Save articles by pressing <Ctrl+S> at any time, no afraid of network breaking. In WordPress control panel, you are writing happily, but when you click <Publish> after finished writing, you found the network is broken, and the writing can not be recovered, at this time, you  must not be happy, and it is very hard even impossible to restore your thinking and writing that wrote in happy status when you are unhappy.
One more reason: maybe some people like the C/S applications and exclude the B/S applications innately, consider it as a reason barely.
Please Note:
1. The above advantages/reasons are based on WordPress CMS, maybe you use other CMS, I think they are still applicable based on my experience.
2. Determined do not say the configuration and usage of Windows Live Writer due to they are too easy, if you still have questions about these, please Google it, it should be resolved .
3. If you find other advantages that let you to be comfortable, welcome to post your comments.
At last, show my Windows Live Writer working screenshot to everyone (only necessary elements, no redundancy, maybe you can make your WLW to be similar to this):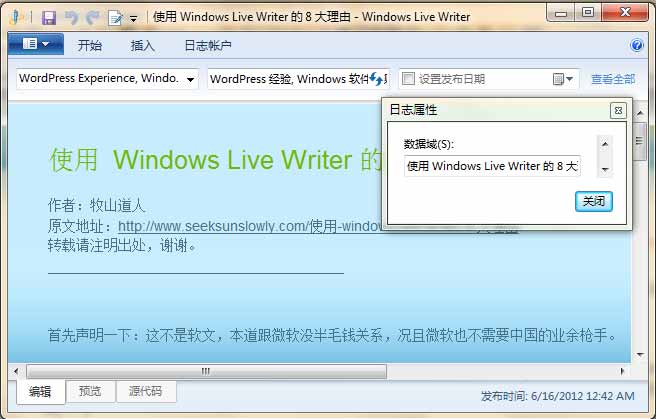 【赞赏 / Reward】